What is "Tumbao"? Technically, the word refers to repetitive bass and/or conga drum figures employed in Cuban music. But, in my weird world view, the word "tumbao" carries other inferred meanings of an almost mystical sort. If some cat plays "con tumbao", it means he moves the music forward in strong, rolling rhythm with deep feeling or "con alma".
The band Tumbao consists of five wonderful musicians who are also world class human beings. They are studied and practiced players who bring great personal joy to the table as well. Their musical skills are evident: strong compositions, luminous, solos, and dynamic ensemble playing. The music itself is communal rhythm poetry, emotionally charged. Tumbao is essentially driven by the strong rhythm team which lays out a flying carpet upon which the front men gather the tropical wind.
Most of the tunes are originals. The range of moods is engaging - something for everyone. While everybody gets their chance to shine, the snap-crackle-pop rhythm pairing of Alberto and Javier are basically content to drive this big car through the tropical terrain while the writers take wing. They are not driving from the back seat, though, folks. This a real family band!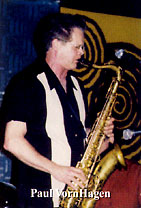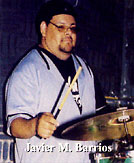 VornHagen's upbeat Spring Watch sets the tone with its lively flute rhythm and joyous tone. The hint of wistful longing in the melody is so very Cuban. You have to live that vibe, people!
Anderson's Groove Chick is a fashionably chunky slice of Latin Jazz. Strong bass line - cool tumbao. And special guest Finkbeiner lends an extra dollop of soul sauce, economically doubling VornHagen's flute. Sven and Al feed each others' fire, and Javier has plenty of percussive kerosene to throw in the pit! Somebody say, "Oh, man!"
Sven also wrote my favorite mood piece on this CD, a mystical gem called When You Sleep, Do You Speak?, a gorgeous violet nocturne. Paul's soprano seeks the root of ancient mysteries. Sven's ribbon of ideas is fresh and focused. VornHagen's title piece is bouncy big fun with flute 'n Finkbeiner. Fink steps up to the plate with a strong turn that tells me he's seeing the ball real well! Bassist Barren prescribes the nice velocity and rhythm breaks of Los Maestros. VornHagen's warm 'n tough tenor is in the fore and guest buddy Bob Mojica matches his strength and invention with passionate trumpet work. Anderson's tribute piece Sir Tyner honors the real McCoy with that patented Afro-Tyner left hand and cascading figures...but shouldn't it be Senor Tyner?
Beautiful cover tunes serve as frosting on the gateau. Composer Orlando Valle's flute feature Celine's Groove is well known to Cuban Fantasy fans and is given a loving treatment here. Sabor A Mi is straight up bolero beauty with VornHagen waxing Zoot-like on tenor.
There you have it, Beautiful, fun cats deliveing a serious dose of beautiful, fun music. Strong leadership, strong material, strong solos. A strong ensemble, con alma con Tumbao!
Marc S. Tara
Host of WEMU 89.1 Jazz and Cuban Fantasy